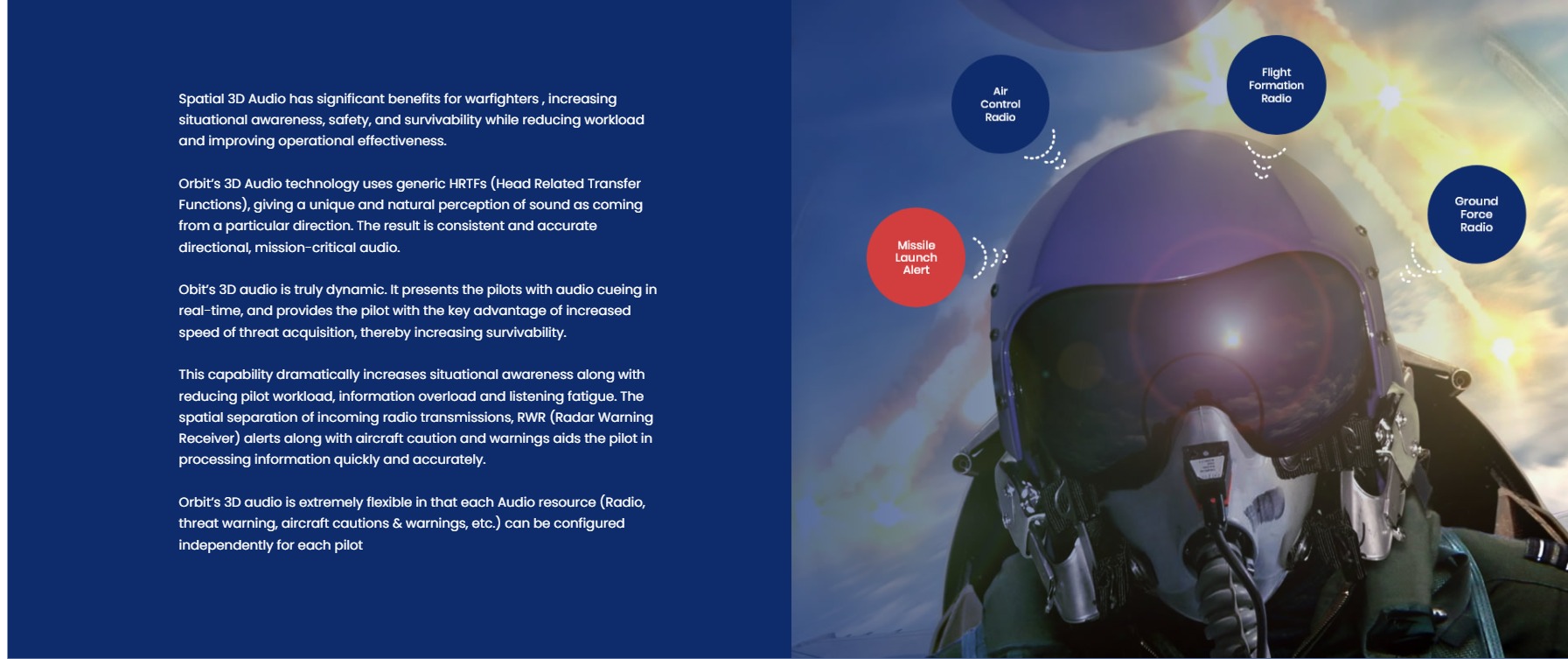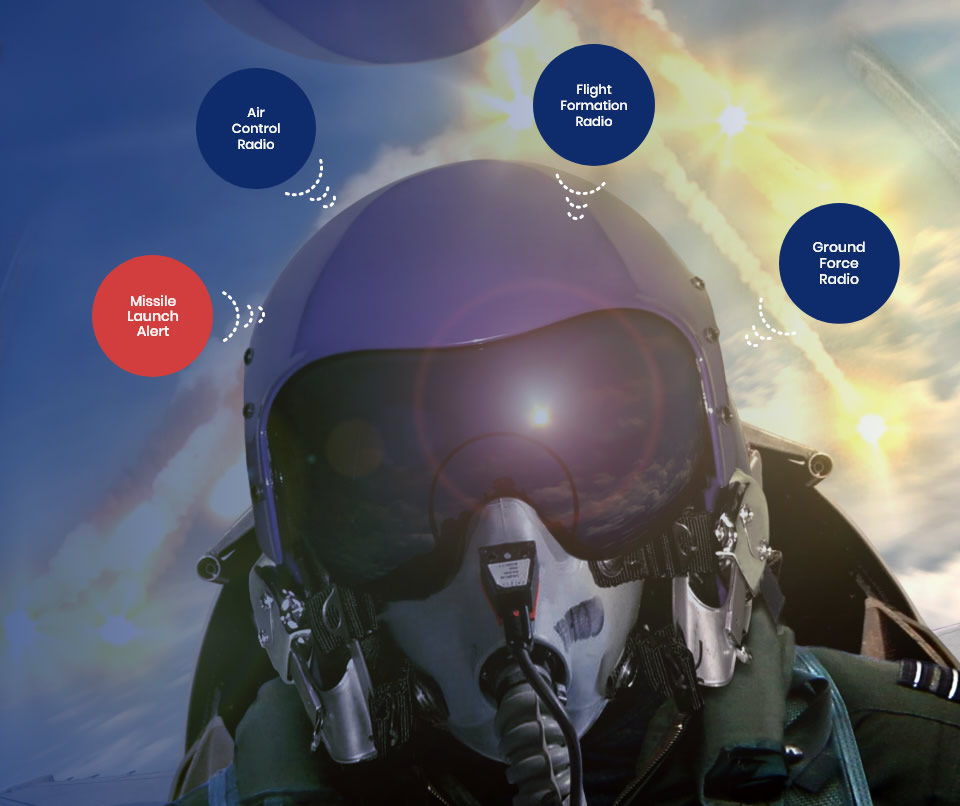 Spatial 3D Audio has significant benefits for warfighters , increasing
situational awareness, safety, and survivability while reducing workload
and improving operational effectiveness.

Orbit's 3D Audio technology uses generic HRTFs (Head Related Transfer
Functions), giving a unique and natural perception of sound as coming
from a particular direction. The result is consistent and accurate
directional, mission-critical audio.  

Obit's 3D audio is truly dynamic. It presents the pilots with audio cueing in
real-time, and provides the pilot with the key advantage of increased
speed of threat acquisition, thereby increasing survivability.

This capability dramatically increases situational awareness along with
reducing pilot workload, information overload and listening fatigue. The
spatial separation of incoming radio transmissions, RWR (Radar Warning
Receiver) alerts along with aircraft caution and warnings aids the pilot in
processing information quickly and accurately.

Orbit's 3D audio is extremely flexible in that each Audio resource (Radio,
threat warning, aircraft cautions & warnings, etc.) can be configured
independently for each pilot
Unmanned aerial systems (UAS) provide mission-critical surveillance and so must cooperate with tracking systems that keep a continuous communication link between the UAS and the ground station. This is even more vital for tactical missions because they rely on UAS platforms that are compact and lightweight, but which must still constantly maintain a stable command and control ( C2) link. Orbit's UAS C2 solutions support both line of sight (LOS) and beyond line of sight (B-LOS) missions to ensure wideband satellite link communications and real-time imagery retrieval. Our UAC C2 technology supports Ku and Ka bands to provide the high throughput required for ISR missions, under any weather conditions. The off-the-shelf solution includes a field-deployed receiving system and a fully equipped C2 shelter to extend mission distance.
To experience Orbit's 3D Audio online, wear stereo earphones connected to your device and listen
Supports Ku, Ka or X bands
Qualified with RTCA-DO-160 and/or MIL-STD-810 regulations
Optimized Size, Weight and Power (SWaP)
Inmarsat Global Xpress Commercial and Military Ka-band Type Approval
Supports Ku, Ka or X bands
Qualified with RTCA-DO-160 and/or MIL-STD-810 regulations
Optimized Size, Weight and Power (SWaP)
Inmarsat Global Xpress Commercial and Military Ka-band Type Approval